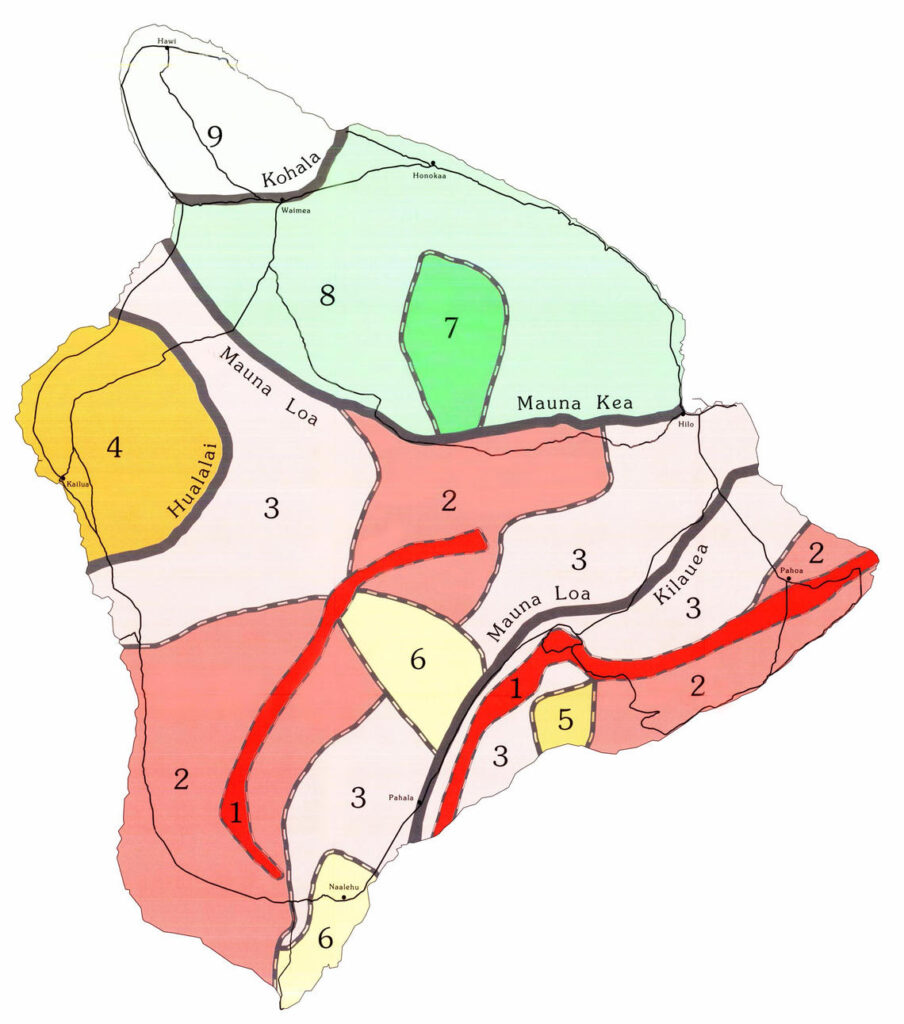 When buying land or real estate on the Big Island of Hawaii, there are many unique factors that need to be a part of your decision. From elevation to climate zone, it's important to understand your area completely. Lava zones in particular are something you may not have thought about during your search. Lava zones represent the hazard level for volcanic activity in your area. This can directly affect the cost of insurance for your property or require additional coverage options.
Understanding the Map
The U.S. Geological Survey has this to say about zoning: "The hazard zones are based on the locations of probable eruption sites (based on past eruption sites), the likely paths of lava flows erupted from those sites (based on topography and the paths of previous lava flows), and the frequency of lava flow inundation of an area over the past several thousand years. The hazard zones also take into account structural and topographic features that would affect the direction of lava flows."
Due to the large sample period, the map does not readily fluctuate. The map was made in 1992 and remains accurate today.
They go on to say, "The map is intended to communicate long-term lava-flow hazards, rather than short-term hazards, which can change daily during periods of eruptive activity."
Related – Looking at a house with a water catchment system? Check out our blog here.
Understanding the Scale
The scale is a rating between 1 and 9, with 9 being least likely to be directly impacted and 1 being most likely. It's important to know what lava zone you're in due to the fact that building permits can be issued for level 1 or 2 zones. The map was created so that critical community buildings would be built in the safest locations available. There are currently no laws against building in higher risk zones.
The map takes into account the percentage of ground covered by lava in the last 200 years. Then looks at the percentage covered in the last 750 years. As the number goes up, the scale moves drastically until you reach level 9. Zone 9 is Kohala Volcano, which hasn't erupted in the last 60,000 years.
Be smart when buying property on the Big Island. Knowing exactly what and where you want to buy property and presenting that information to your agent will help them find the perfect home for you.
For more information on the subject check out the USGS website on frequently asked questions about lava zones.
Click here to contact one of our realtors.
Resources:
United States Geological Survey – https://www.usgs.gov/observatories/hawaiian-volcano-observatory/lava-flow-hazards