There are so many unique and wonderful beaches on this Big Beautiful Island! Here is a quick list of our TOP 5 FAVORITES with pictures included! What are your favorite Hawaiian beaches?
1. HAPUNA BEACH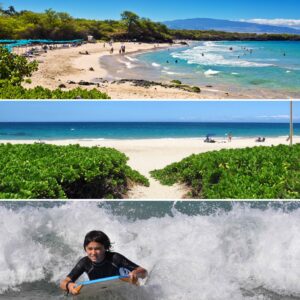 This gorgeous beach is consistently rated on top 10 Islands' beaches year after year. It boasts a 1/2 mile of soft white sand and brilliant water (with impressive surf in the winter.) The water at Hapuna Beach is so clear you can barely tell where the beach ends and the ocean begins. This award-winning shore is fun for families as it has plenty of room to roam, a lifeguard on duty year-round, and picnic tables shaded by trees that line the beach. Snorkeling, swimming, and body-boarding are common pastime here, when the currents aren't too strong. Plenty of parking but not a lot of shade!
2. HOOKENA BEACH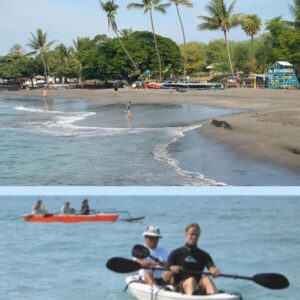 Ho'okena Beach Park is the historical site for one of the last active Hawaiian canoe fishing villages in Hawai'i. Ho'okena has a rich cultural history and remnants of its old commercial steamship pier remain. There are canoes strewn across the beach owned by the fishermen who continue traditional Hawaiian fishing practices passed down from their ancestors. If you are lucky, you may see the fishermen launch their canoes or come back with a bounty full of fish.
The beach is an exotic blend of a wide variety of coral and fine, gray sand. Depending on the time of year, the ocean is placid and the clear, blue waters reveal spectacular underwater landscapes and a colorful array of fish. When there is a south swell, watch the local boogie boarders masterfully ride the near shore break. The sunsets are amazing and the sunrise above the pali (cliffs) are breathtaking.
Ho'okena Beach Park is an excellent place to camp under the stars, listening to the soothing sound of waves crashing on the beach, then waking up to a gentle sea breeze to a spectacular view found nowhere else.

3. GREEN SANDS BEACH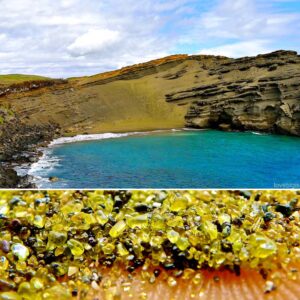 Green sand beach is one of the "once in a lifetime" places to visit on the Big Island. Green sand beach is officially known as "Papakōlea beach" and it is one of two green sand beaches in the United States.
The beach itself is carved in a 49,000 years old cinder cone belonging to the Mauna Loa volcano that contains the green crystals (olivines) that give the beach its name. You can read more about this in the green sand trivia section further below. The main attraction of this beach is, of course, the crystal green sand. Note that the green crystals that give the beach its name are mixed with black (lava) and white (coral/shells) sand, and thus some patches of sand are more green than others. Take the time to pick up some sand to inspect it closely. It is positively breathtaking!

4. TWO-STEP BEACH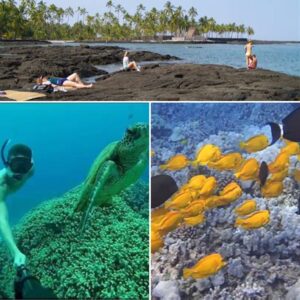 Some of the finest protected snorkeling in all of Hawaii is located only a short dive south from Kona town. Two-Step Beach is located just north of Pu'u Honua O Honaunau National Historic Park, also known as the City of Refuge, and a perfect spot to explore the crystal clear waters of Kona's coast.
With green sea turtles, colorful fish, live coral, and Hawaiian spinner dolphins, Two-Step beach is a Big Island snorkeling paradise. Although no swimming is allowed within the National Park, Two-Step Beach, which sits just outside the park, offers a convenient place to enter Honaunau bay.
There are no snorkel rental places at the City of Refuge, so make sure to bring your own gear or stop by our shop for snorkel rentals before you take off.

5. MAKALAWENA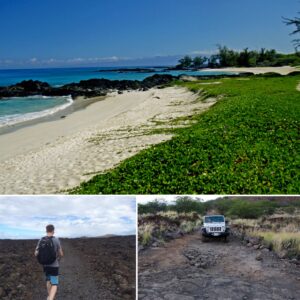 Makalawena might be the best beach on the Big Island that can't be reached by road. There are several bays scooped out of the Kona Coast with gorgeous white sand and plentiful shade from palm trees. The hike out to Makalawena keeps the crowds away, especially on weekdays. It's really tough to find a more perfect beach anywhere in the Hawaiian island chain. Swimming is usually pretty safe when waters are calm. The land behind Makalawena is private. The most northerly bay has a protected spot that's very calm. 'Ōpae'ula Pond is behind Makalawena and its twelve acres are a National Natural Landmark that protects nesting and breeding areas for some native Hawaiian birds. It's surrounded by private property, so stay out. Take a look at our page for Kekaha Kai State Park if you're looking for a longer hike or for other destinations in the area.
Kekaha Kai State Park is a large and relatively undeveloped beach park north of Kailua-Kona. Formerly known as Kona Coast State Park, the name Kekaha Kai comes from the Hawaiian phrase ke kaha kai, meaning "the shore line." This region has some of the best beaches on the island. Kekaha Kai State Park is open 8am – 7pm every day except Wednesdays.